The New J.C. Penney
You can't miss the ads and all of the hype for the new J.C. Penny.  As a marketer, I love to see bold promotional campaigns, although the screaming women are a bit much, but they certainly got my attention!
Last year, J.C. Penney named Ron Johnson as CEO.  Johnson formerly launched Apple's retail stores, and was a part of the Target Team, where he found Michael Francis, who has been named President.  Francis' legacy is that he  is largely responsible for Target's branding and marketing efforts.
The new J.C. Penney is implementing a new pricing strategy, slashing prices up to 40% and keeping them that way year round.  But that's not all.  There's a new logo,  new spokeswoman – talk show host Ellen DeGeneres,  an investment in Martha Stewart Omnimedia and another designer partnership with Nanette Lepore.
There will also be an entirely new layout, with brands merchandised in shops within the store, in an effort to provide a reason to buy in stores, rather than looking for bargains online.
When the stores close Tuesday, they will be completely different on Wednesday morning when they open.   Their Facebook Page has an invitation and an RSVP for customers to come and see their new look when they open on February 1st.
New Pricing
They say that Johnson is borrowing from the playbook of Apple, which shuns discounting and focuses on selling products and offering services.
J. C. Penney has been an especially big promoter. Last year, the company, which offered 590 sales events throughout the year, saw nearly three-quarters of its revenue come from merchandise that was discounted by 50 percent or more.
"I have been struck by the extraordinary amount of promotional activity, which to me, didn't feel like it was appropriate for a department store," Johnson said. "Once you start to promote, the only way to beat a promotion was to make it bigger."
The new fair pricing strategy is designed to keep prices low on the basics shoppers look for frequently and introduce new merchandise on a routine schedule.
Here's how Penney's pricing strategy will work:
- Sale prices become everyday prices. The company will use sales data from last year to slash prices on all merchandise at least 40 percent or lower than the previous year's prices. So, a woman's St. John's Bay blouse regularly priced at $14.99 could have the "Every Day" price of $7.
- Fewer sales. The retailer will pick items to go on sale each month for a "Month-Long Value." For instance, jewelry and Valentine's Day gifts would go on sale in February, while Christmas decorations would be discounted in November. Items that don't sell well would go on clearance during the first and third Friday of every month when many Americans get paid. Those items will be tagged "Best Prices," signaling to customers that's the cheapest price.
- New tags. The retailer used to pile stickers on price tags to indicate each time an item was marked down. But now each time an item gets a new price, it gets a new tag too. A red tag indicates an "Every Day" price, a white tag a "Month-Long Value" and a blue tag a "Best Price."
- Simpler pricing. Penney will use whole figures when pricing items. In other words, you won't see jeans with a price tag of $19.99, but rather $19 or $20.
"We want customers to shop on their terms, not ours," said Johnson. "By setting our store monthly and maintaining our best prices for an entire month, we feel confident that customers will love shopping when it is convenient for them, rather than when it is expedient for us."
New Logo and Look
J.C. Penney's new logo  "combines the elements that have made jcpenney an enduring American brand, by evoking the nation's flag and jcpenney's commitment to treating customers fair and square."
Johnson plans to revamp stores and create a town square and main street feel with dozens of shops featuring the store's brands.
In August J.C. Penney will begin updating all stores with new merchandise and presentations, adding two to three shops each month through 2015 in what management is calling a complete transformation.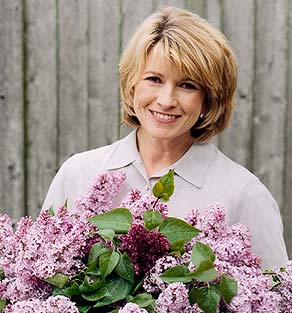 J.C. Penney's investment in Martha Stewart Omnimedia goes well beyond the products she can bring to store shelves.
MSO is a multilayer company with magazines, Web sites, TV shows, books and a radio show on SiriusXM. Even more importantly, it's light years ahead of most retailers when it comes to developing digital and mobile content. That infrastructure and scope could help J.C. Penney leapfrog over its competition, all of whom are struggling mightily to have a robust cross-platform operation.
"The department store is the number one opportunity in retail today. We are going to rethink every aspect of our business, boldly pursue change, and create long-term shareholder value, as we become America's favorite store," Johnson said. "Every initiative we pursue will be guided by our core value to treat customers as we would like to be treated – fair and square."
If you're a new reader, welcome!!  You can find out why the Strategic Shopping Network is unique, here. We will continue to keep our Strategic Shoppers posted on how these changes will affect us…stay tuned.
Some information provided by Forbes.com.